Navigation
Menumill provides a simple yet powerful solution to managing your site navigation and lists of links. Create a simple list, or go all out with a nested tree structure. All with drag and drop goodness.
---
Adding Links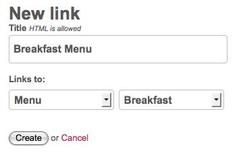 Create your navigation or list of links from your pages, menus, galleries, or external URLs. Its simple!
---
Nested Links with drag-and-drop simplicity

Drag-and-drop reordering makes updating your navigation a snap. Easily create heirarchys and tree structions with unlimited levels of nested lnks.
View what this example navigation looks like when displayed on the site in the next section below.
---
Crazy Flexible

Every site has different needs and design goals - especially when it comes to the site navigation. Menumill's Navigation tools combined with liquid templates provide ultimate flexibility for your website navigation. Create navigation dropdowns, use custom fonts with sIFR font replacement techniques (see example above), or create multi-level hierarchies - unlimited design posibilities!